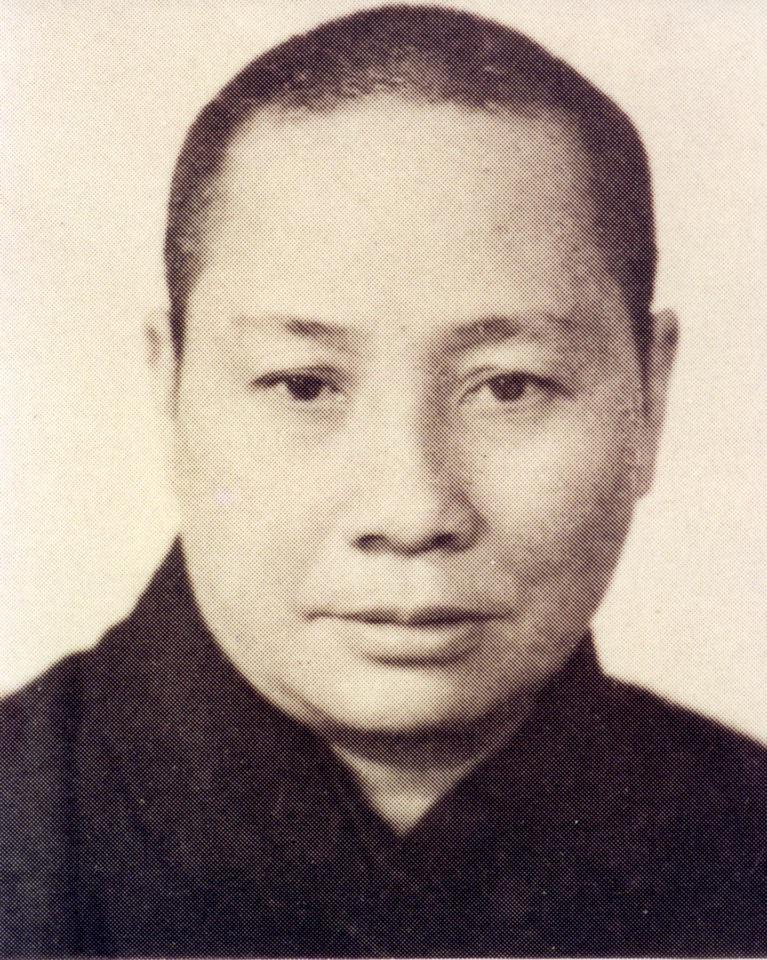 Venerable Shui Yung
Ven. Shui Yung (1912-2007) was born to the Chan family in Tai Shan County in Guangdong. In 1930, she became a nun under Ven. Zhi Lin in Chi Hong Ching Yuen in Shatin. Her Dharma name was Geng Wai, alias Shui Yung. In 1935, Ven. Shui Yung was ordained and received thousand buddha precepts at Nanhua Temple in Caoxi, Baolin Shan.
Chi Hong Ching Yuen was founded in 1914 by Ven. Hong Yuan, who strived to expand it as a "conglin" for nuns until she passed away in 1932. To carry on her master's legacy, Ven. Zhi Lin summoned her disciple, Ven. Shui Yung from Lianhua Tai on Lantau Island to assist her.
Under severe financial constraints, Ven. Shui Yung personally participated in the architectural design of the Nunnery as well as the purchase of the building materials. She led nuns and followers to do mining in the mountains for stones and gravel. After 10 years of toil and hardship, the expansion of Chi Hong Ching Yuen was completed.
Unfortunately, the consecration of the Nunnery coincided with the fall of Hong Kong. The Japanese army wanted to commandeer the premises and use it as their barrack. When they were forcing Ven. Shui Yung to sign the agreement, they heard chanting of the Shurangama Sutra from the Main Hall. Ven. Shui Yung calmly told the Japanese, "We are saying prayer which cannot be interrupted or else the Imperial Japanese Army will be defeated". The army chief was alarmed and ordered the protection of the Buddhist temples in Hong Kong. The Venerable succeeded in preserving the temples with her calm composure, quick-wittedness and courage.
During the Japanese Occupation, many Buddhist monastics from the Mainland were forced to stay in Hong Kong without a shelter. Ven. Shui Yung, who was fearless and compassionate, unprecedentedly opened the Lecture Hall of the Nunnery to accommodate the homeless monks.
Ven. Shui Yung was an avid and enthusiastic supporter of Buddhist activities in Hong Kong. As one of the founders of the Hong Kong Buddhist Association, she served on the Administrative Committee from its inauguration in 1946 for eight consecutive sessions and then its Board of Directors for over 20 years.
In 1952, Chi Hong Ching Yuen established Chi Hong Charity School in Sun Tin village in Shatin to provide free schooling for local children. Later, the school became Buddhist Chi Hong Kindergarten, which was closed in 2000. Ven. Shui Yung also helped to turn the dilapidated premises into a centre for Buddhist charitable services.
She was also the driving force for the registration of Chi Hong Ching Yuen as a limited company and a non-profit charitable organization. In 1963, Chi Hong Ching Yuen was successfully registered with the government.
Ven. Shui Yung, Ven. Wang Chi and Lam Ling Chun of Tung Lin Kok Yuen studied under Ven. Hoi Yan, who was known as the "King of Shurangama Mantra". Lam Ling Chun was well known for her continuous and outstanding contribution to Buddhism. In 1963, due to illness, she stepped down from head of Tung Lin Kok Yuen. She became very ill and bed-ridden. To pray for her recovery, Ven. Shui Yung initiated the holding of a 7-day Shurangama Mantra recitation assembly in Tung Lin Kok Yuen, the first of its kind in urban Hong Kong. The Venerable then introduced the 7-day ritual to Chi Lin and is now an annual event since then.
Ven. Shui Yung was a benefactor throughout the redevelopment of Chi Lin Nunnery. As early as 1946, she was already on the Preparatory Committee for the expansion of Chi Lin to form a "conglin" exclusively for nuns. In November 1965, she was appointed member of the Board of Directors of Chi Lin and participated actively in the administration and development of the Nunnery. In July 1970, Ven. Shui Yung was nominated by the Board of Directors to assume the newly created position of Assistant Supervisor of the Chi Lin Home for the Aged to assist the Abbess, Ven. Kai Hong.
In 1977-1978, Chi Lin had a financial crisis. Ven. Kai Hong, who excelled in the propagation of Buddha's teachings, was not sufficiently astute in management of secular affairs. She repeatedly requested resignation from the position of Abbess. Once again, Chi Lin encountered a leadership crisis. To tide over the difficult financial situation, the Board of Directors earnestly invited Ven. Tsz Cheung of the renowned Tai Kong Yuen to take up the honorary post of Abbess, with Ven. Shui Yung as her deputy. Ven. Tsz Cheung has dedicated her life to the propagation of Buddhism, education and nurturing talent and was knighted M.B.E. for her contribution. She was a member of the Board of Directors of Chi Lin for many years and her willingness to accept the honorary post was timely and commendable. The low-profile Ven. Shui Yung, who refused to become the abbess in early days, was actually in charge of the day-to-day management of the Nunnery.
With painstaking efforts, Ven. Shui Yung gradually paid off Chi Lin's debts and even managed to achieve some surplus. She also assisted the elderly residents to apply for government's old age living allowance, thus easing the financial burden of the Home for the Aged. With more favourable financial condition, she carried out building, maintenance and repair work at Chi Lin, giving it a new facade. This truly reflects the constructive character of the Venerable.
Despite her old age, Ven. Shui Yung remained active and innovative. In the 1970s and 1980s, Hong Kong underwent an economic boom. Living standard improved markedly, education level was rising and people showed more interest in cultural and spiritual activities. Although many Buddhist lectures and religious activities were organized, there were inadequate resources available for people to do research in the realm of Buddhist literatures. Ven. Shui Yung proposed to set up a Buddhist library to meet the need. This proposal was wholeheartedly supported by Mr. Peter C. Wong, Chairman of the Board of Directors.
Another challenge in the 1980s that needed urgent attention was the ageing problem of the Buddhist monastics in Chi Lin. There was an acute shortage of manpower since most of the nuns had reached the age of seventy or eighty years old. It was necessary to bring in new monastics and to look for a successor. In 1980, with the advice of the eminent Ven. Yuen Wai, Chairman of the Board of Directors of Po Lin Monastery, the 72-year-old Ven. Shui Yung went to Po Tai Yuen, an obscure temple on a hill in Shatin. She discussed the problem with Ven. Foon Shun, who was an elderly nun, and proposed to invite her disciple, Ven. Wang Fun, to join Chi Lin. However, Ven. Wang Fun declined the offer as she was at that time working hard in assisting the redevelopment of the Biechuan Monastery in Danxia Mountain, Guangdong Province and several other monasteries. In hope of changing the mind of Ven. Wang Fun, Ven. Shui Yung, though suffering from leg injury, went up the hill to Po Tai Yuen once again. She also invited Ven. Foon Shun and Ven. Wang Fun to visit Chi Li to attend the 7-day Shurangama Mantra Recitation, the one and only event in Hong Kong. Ven. Foon Shun was moved by Ven. Shui Yung's sincerity, and finally agreed to let Ven. Wang Fun join Chi Lin by taking up the task of setting up a library in Chi Lin Nunnery.
With the generous support of the Board of Directors led by Mr. Peter Wong Chak-cheong, Ven. Wang Fun started to set up a library on the dilapidated orphanage premises in Chi Lin. She started her work by cleaning and repairing the premises, then equipped the library with bookshelves. Eventually a substantial collection comprising Buddhist literature and books on philosophy, culture and Chinese traditional arts was built up and they become an important source of information for the further development of Chi Lin.
On 8th March 1986, the library was formally opened to the public. Ven. Shui Yung's visionary idea was materialised by Ven. Wang Fun. The library holds a vast collection of material and information for study and research. There is a reading room as well. It is a venue for hosting scripture and chanting sessions, lectures, talks and exhibitions of Buddhist art. In addition, books on Buddhism were published. Cultural exchange programmes were organized by collaborating with universities, institutions and museum in Hong Kong, China and overseas. In short, the library is a bridge between Chi Lin and the outside world.
In 1985, Ven. Shui Yung became the Abbess of Chi Lin after assisting Ven. Tsz Cheung, the honorary Abbess for many years. During her tenure, Ven. Shui Yung was assisted by Ven. Wang Fun.
In 1986, Ven. Shui Yung requested Ven. Wang Fun to plan for the building of an additional block for the Home for the Aged because the old facilities were dilapidated and overcrowded. The two existing blocks were located far apart with one being situated high on the hill slope and the other at the base of the hill. Ven. Wang Fun believed that building an additional block would not solve the problem due to topographical constraints and suggested a redevelopment of Chi Lin Nunnery together with the elderly home. With the approval of Ven. Shui Yung, Ven. Wang Fun started to draw up a comprehensive plan for Chi Lin's redevelopment.
The opportunity came when the Tate's Cairn Tunnel that linked Hong Kong, Kowloon and the New Territories was completed in 1989. To tie in with the new town planning, the government was about to embark on the second stage of the project for rezoning the Diamond Hill area. Ven. Shui Yung and the Chi Lin Board of Directors decided to plan for an overall redevelopment of Chi Lin Nunnery and entrusted the task to Ven. Wang Fun.
It was Ven. Shui Yung's wise decision to give Ven. Wang Fun a free hand to rebuild Chi Lin, by applying her vast knowledge and experience in years of research in Buddhist architecture. After seven years of redevelopment, Chi Lin Nunnery has metamorphosed into a Tang style monastic complex which is grand and dignified with seven Halls and multiple courtyards. The wish of Chi Lin's founders for an ideal "conglin" for nuns from all quarters was fulfilled.
Under the leadership of Ven. Shui Yung, Chi Lin forged ahead with remarkable achievements. With the completion of Chi Lin's redevelopment in 1997, the propagation of Buddha's teachings has advanced. The Chi Lin Care and Attention Home has also become the largest elderly home in Hong Kong. A cultural department and an evening college were established. A four-year post-secondary course on Buddhism and Philosophy was launched and a secondary school was set up for students with learning impairment.
Feeling accomplished, the 85-year-old Ven. Shui Yung entrusted Ven. Wang Fun with full management of the Nunnery. In 2004, Ven. Shui Yung invited Ven. Wen Zhu from the U.S.A. to give lectures on the Shurangama Sutra at the summer retreat and to host a two-year course comprising 75 lectures on the Sutra. In 2006, with the completion of the Tang-style Nan Lian Garden, Ven. Shui Yung felt a sense of fulfilment and gratitude.
On 13th July 2007, Ven. Shui Yung attained eternal rest at the age of 95, having been a monastic for 77 years and a fully ordained nun for 72 years.
Albeit widely respected as a senior master in charge of Chi Lin Nunnery, Ven. Shui Yung, regardless of hardships involved, repeatedly visited Po Tai Yuen in 1980, to invite Ven. Wang Fun to join Chi Lin. Thanks to the cordial invitation, Ven. Wang Fun spent 27 years assisting Ven. Shui Yung in managing the nunnery. Despite the heavy workload, Ven. Shui Yung always generously realized Ven. Wang Fun's potential beyond Chi Lin, and endorsed her endeavors to visit Buddhist temples, conduct research and make photographic records of monastic buildings and Buddhist sculptures, and assist in renovation and reconstruction of temples throughout China, as well as let her spend several years engaged in the construction of the Tian Tan Buddha on Lantau Island, in the role of Artistic Director. These experiences nurtured Ven. Wang Fun's talent and unlocked her potential. For more than two decades, the two venerable Buddhist masters of two generations worked together in perfect harmony, until Ven. Shui Yung passed away in 2007.
With unshakable faith and strict practice, Ven. Shui Yung dedicated her life to advocating and promoting Buddhism, as well as pursuing a commitment to charity. In practising compassion and wisdom, Ven. Shui Yung was austere with herself yet lenient with others. She always kept a low-profile, despite being industrious and was open-minded in nurturing the next generation. For her peaceful and merciful presence, revealing her great compassion and big-heartedness, Ven. Shui Yung is fondly remembered!