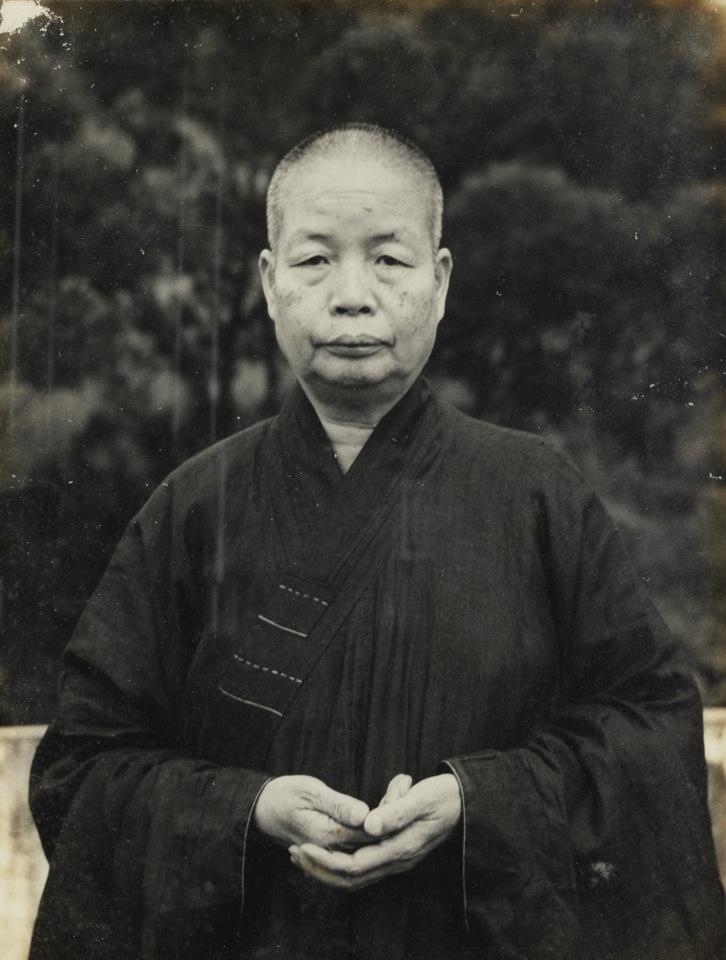 Venerable Foon Wai
Ven. Foon Wai (1897-1965) was born in Shunde County in Guangdong province to the distinguished Cheung family. She studied the Buddha's teachings in her youth and became a follower of Ven. Tai Xu in her middle age. Her Dharma name is Wai Ju.
Ven. Foon Wai was a big-hearted benefactor. Not only did she make generous contributions to the monastics, she also gave magnanimous alms and rendered assistance to the community.
In 1947, Ven. Foon Wai was tonsured under Ven. Hsu Yun and received full ordination at Nanhua Temple, which was under restoration at the time, in Caoxi, Baolin Shan. Since then, she followed Ven. Hsu Yun in Chan practice.
In 1949, Ven. Foon Wai was invited to head the Chi Lin Nunnery. As the abbess, she was big-hearted and decisive. First of all, she started to repair the dilapidated buildings and to expand the halls. She donated all the proceeds from holding Buddhist rites and religious activities to the building fund. Her master, the eminent Ven. Hsu Yun, gave advice on the construction and design of various halls. With the generous donations from Mr. and Mrs. Cheung Foon Ming, Ven. Foon Wai successively set up various Buddhist halls such as the Main Hall, Hall of Avalokitesvara, Hall of Ksitigarbha, the Sutra Repository, Monastic Dining Hall, Ancestral Hall, Pu Tong Ta and Duo Bao Pagoda etc. The monastic complex gradually developed with about 250 monastic residents in 1963. During her terms of office, Ven. Foon Wai invited many prominent monks and nuns to Chi Lin to preach Buddha's teachings. She also presided over and participated in large scale events such as the seven-day religious assembly held to raise fund for the Buddhist Hospital which was attended by Buddhist monastics and devotees from far and wide.
In 1949, under the administrative leadership of Abbess Ven. Foon Wai and the advice of Ven. Hoi Yan, monastic rules of communal living for nuns were set and put into effect. Thanks to the Venerable, Chi Lin Nunnery was officially registered as a limited company in 1963, and in 1971 as a non-profit making charitable organisation.
With regard to education, "Chi Lin Yi School" was recognized as a subsidised school by the Government in 1950 under Ven. Foon Wai's supervision. It was then expanded into a fully-fledged and well-equipped school a year later.
Chi Lin began service for the elderly in 1954. Ven. Foon Wai initiated the building of an orphanage and home for the aged. The Hong Kong philanthropist, Mr. Aw Boon Haw, donated generously to fund the project and Sir Lo Man Kam helped apply to the Government for allocation of land. After completion in 1957, the homes received 100 elderly people and 17 orphan girls. In 1964, with a newly constructed building funded by Mr. Ho Iu Kwong, the home could even house 150 elderly people.
Ven. Foon Wai emphasized on keeping the natural environment of the monastery with gardens beautifully landscaped and well maintained so that Chi Lin could provide a pleasant environment for its neighborhood and the community. It is also an oasis in the city as well as a place for retreat, and cultural and scholarly pursuits.
Ven. Foon Wai served as the Managing Director of the Hong Kong Buddhist Association, Director of the 5th to 8th Administrative Committees and a member of the Board of Directors from the 9th to 12th term. Simultaneously, she served as Abbess of Chi Lin Nunnery and Supervisor of Chi Lin School and Chi Lin's Home for the Aged and Orphanage, among other posts. In praise of "The Fourfold Kindness", Ven. Foon Wai published "Hsu Yun's Discourses & Dharma Words" and built the Hsu Yun Heshang stupa. She passed away on 27 November 1965 due to cerebral haemorrhage at the age of 69. She had been a Buddhist monastic for 18 years. Her loss is deeply felt by all.
In her 16-year tenure of abbotship, Ven. Foon Wai succeeded in establishing Chi Lin Nunnery as a "conglin" for nuns, a renowned monastery in Kowloon and laid a firm foundation for Chi Lin's diversified future development. Her contribution is undeniably immeasurable.