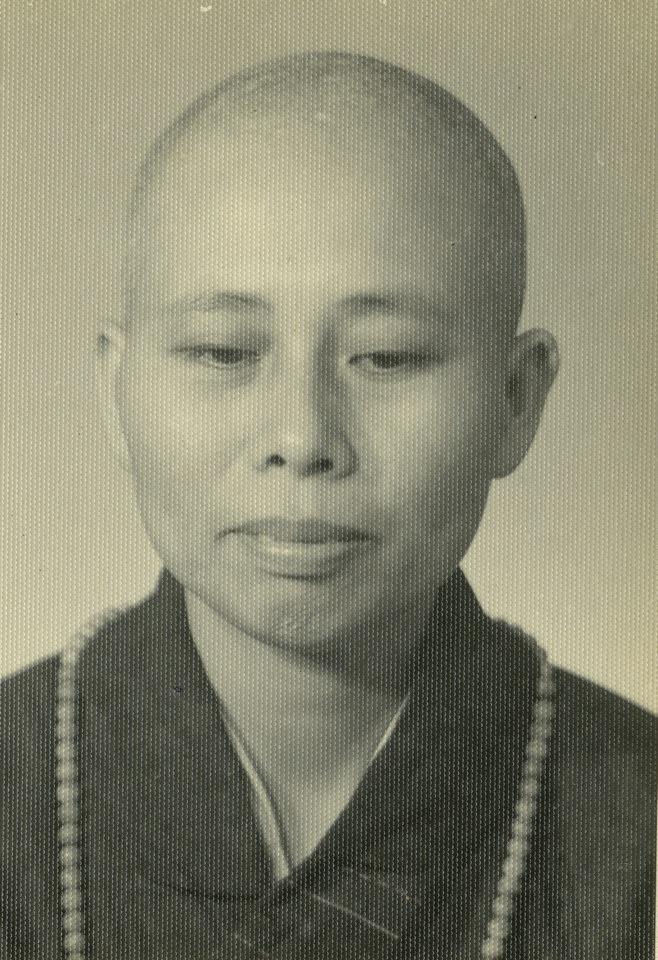 Venerable Wang Chi
Venerable Wang Chi (1911-2008) was born in Zhongshan County of Guangdong to the Leung family. Her Dharma name was Sen Huo, alias Wang Chi.
Inspired by a poem, the 20-year-old Ven. Wang Chi renounced secular life and was tonsured at Ching Wai Um by Ven. Zong Qing and Ven. Yung Hsu in 1930. Then in 1935, she received full ordination under the eminent Ven. Guan Ben at Nanhua Temple in Caoxi, Baolin Shan. Later, she studied under Ven. Hoi Yan, a renowned scholar monk known as the "King of Surangama Sutra".
In 1936, Ven. Wang Chi joined Chi Lin Nunnery and in 1939, as the only nun in the class, she and two female Buddhist devotees attended the courses on Buddhism founded by Ven. Wai Um.
From 1941, Hong Kong was under Japanese occupation for 3 years and 8 months. During this catastrophic period, Chi Lin's classes had to be halted. Many monastics left Hong Kong, but Ven. Wang Chi stayed with her masters Ven. Wai Um and Ven. Kok Yat. She often hid in the quarry up the hill behind during the day and was on guard at night. After the death of the two masters, Ven. Wang Chi, along with many Buddhist devotees, assisted Ven. Oi Ting, the Abbot, in the running of the Nunnery during such difficult times.
The war ended in 1945 and the eminent Ven. Oi Ting resigned as abbot despite earnest request for him to stay. On 23rd September, it was resolved at an extraordinary committee meeting that Ven. Wang Chi was to take over temporarily as the 3rd Abbess of Chi Lin.
Ven. Wang Chi was upright, disciplined and highly respected. She was one of the founders of the Hong Kong Buddhist Association and a member of its first Board of Directors.
After the War, Hong Kong was in ruins. Law and Order was not yet restored and social problems such as inflation, unemployment, crime, hygiene etc abound. As Chi Lin was commandeered by the Japanese army, it was looted and left in shambles. In spite of financial constraints, Ven. Wang Chi began to repair Chi Lin in order to fulfil the wish of her predecessors.
During the post-war period in the 1940s, the Diamond Hill area was sparsely populated and laid in waste. Residents were mainly poor farmers who could not afford to send their children to the nearest schools in Kowloon City, most of which were run by private institutions and were rather far away. Ven. Wang Chi was so compassionate that she opened a charity school in Chi Lin Nunnery for the needy children in the neighbourhood. She served as the headmistress and teacher for three sessions. With the assistance of Lam Ling Chun, head of Tung Lin Kok Yuen, "Chi Lin Yi School" was formally registered with the Education Department in 1948. After the registration, the first Board of directors was appointed. The school recruited two teachers and set up two temporary classrooms at the Nunnery. The school fee was $2.4 per session and each teacher received a monthly salary of merely $60. Although the facilities were scarce and the teachers' salary was modest, everyone tried their best and the school flourished. Chi Lin started to provide educational services to the community since then.
In July 1949, upon completion of her term of office, Ven. Wang Chi declined serving for a second term and devoted herself to spiritual practice and study. However, she continued to give invaluable advice and support to her successor on the Nunnery's progress and development.
The Venerable attained her perfect rest in January 2008 at the age of 97, having been a Buddhist monastic for 78 years and a fully ordained nun for 73 years.