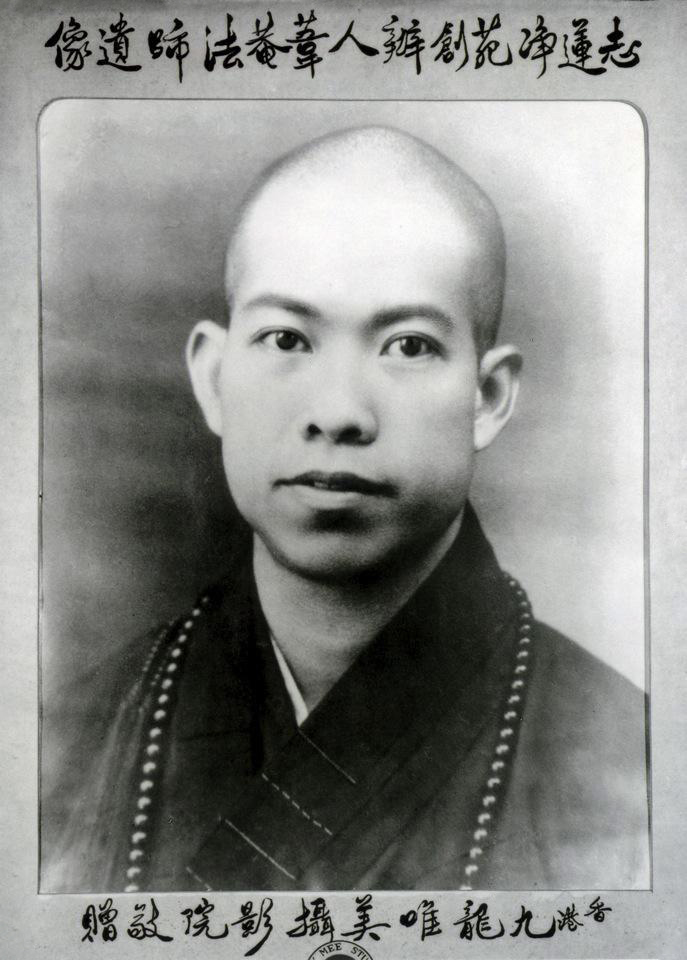 Venerable Wai Um
Ven. Wai Um (1905-1943) was born in Guangdong, Dharma name Guo Cheng.
In March 1928, the 23-year-old Ven. Wai Um enrolled in the Guan Zong Buddhism Propagation Research Centre of Guizong Temple in Ningbo to learn and practice Tiantai Jiao Guan, which is the traditional Buddhist "conglin" rules. In recognition of his excellent academic achievements, Ven. Wai Um was promoted from assistant researcher to full member of the Propagation Department in 7 months. While furthering his education at the Minnan Buddhist College, he wrote articles to express his concern about adopting a more open approach of the sangha and contemporary issues and problems in the Jin Shan Fa Hai Bo Lan, a magazine launched by Ven. Ren Shan, a Buddhist reformer.
After years of studying in various monasteries and institutions, Ven. Wai Um became a distinguished Buddhist scholar. With his authoritative and eloquent manner, he advanced the teachings of the Buddha in Hong Kong.
In 1932, Ven. Wai Um organised a public conference for the Christian clergymen and Buddhist practitioners to meet and converse. The conference attracted a large audience. His courage and passion for his faith is exemplary.
In 1933, Ven. Wai Um, together with Ven. Kok Yat and Ven. Ho Yan, founded Xiang Hai Puti Chang to promote the Pure Land School of Buddhism. Ven. Kok Yat presided while Ven. Wai Um, Ven. Hoi Yan, Ven. Fat Ho, Ven. Yuet Sai and Ven. Ho Yan were Directors assisting the institute in propagating Buddhist teachings. Ven. Wai Um was responsible for expounding the Śrīmālā Sutra. In the Chang, there were also a charity school, free clinic, a Buddhist library and research centre. Ven. Wai Um had a grand plan but due to the constraints at the time, it could not be implemented.
With the sponsorship of Madam Nam Chong Yuen and many other devotees, Ven. Wai Um and his master Ven. Kok Yat began setting up Chi Lin at Diamond Hill, Kowloon in 1934 to be a "conglin" for the promotion of the Pure Land School practice. They started by establishing a Buddha's Hall and a reception hall.
In 1939, in order to promote sangha education, Ven. Wai Um organized a course and imparted the teachings of Buddha himself. Sheds were erected in the open space of the Nunnery to accommodate students from all walks of life. The course was popular and well attended.
Ven. Wai Um was young and well educated. He was well versed in Buddhist teachings, medicine and general knowledge. At a time of gender inequality, Ven. Wai Um encouraged nuns to study Buddhist scriptures and he vowed to build a nunnery for religious devotion and practice. He was indeed farsighted.
In 1935, Ven. Wai Um was appointed chief representative to welcome the eminent Ven. Tai Xu to Hong Kong for the 5th Buddhist Symposium and deliver a welcome speech. He also translated the lectures given by Ven. Tai Xu to a packed audience at Lee Gardens on the Sutra of Bodhisattva Maitreya and the Thirty Verses on Consciousness-Only into Cantonese.
In response to Ven. Tai Xu's request to promote unity, Ven Wai Um initiated the setting up of a preparatory office for the Hong Kong Buddhist Association in 1936. He nominated Ven. Oi Ting, Ven. Tung Yat along with other prominent monks to be committee members. Unfortunately, the association could not be formed as the war between China and Japan was imminent.
With the outbreak of the Second Sino-Japanese war, Buddhist monastics and devotees took active part in the "Save the Nation Anti-Japanese Protest Movement". In March 1938, many monks, members of the Shanghai Monk's Ambulance Team and the Buddhist Burial Team of the Chinese Buddhist Association came to Hong Kong before action could be taken at the war front. Ven. Wai Um was appointed Chairman of an organising committee by various Buddhist groups in Hong Kong to hold a farewell rally in their honour and was the first to deliver a speech at the gathering of more than 200 people.
On 2nd November 1938, Ven. Wai Um was appointed executive member and resident officer of the Hong Kong Buddhist Refugee Association at its inaugurating meeting. He succeeded in mobilising the sangha to raise funds for the refugees.
As one of the founders of Chi Lin, Ven. Wai Um had grand plans for its development. He began acquiring Buddhist statues, raising funds and making application for land in preparation for building the Main Hall. Unfortunately, Hong Kong was occupied by the Japanese and the plan was not realized.
During the Japanese Occupation, classes at Chi Lin stopped. Many local residents and monastics left Hong Kong but Ven. Wai Um, Ven. Kok Yat and several others stayed despite the threat of hunger, sickness and brutal treatment by the Japanese soldiers.
On the 9th day of the 3rd lunar month in 1943, Ven. Wai Um passed away at Hui Si Yuan due to illness. He was only 38 years old.
Ven. Wai Um ranks among prominent monks such as Ven. Bo Ching, Ven. Oi Ting, Ven. Fat Ho and Ven. Mao Fung for their unwavering commitment and outstanding contributions to the propagation of Buddhism in Hong Kong at that time. It was a great loss for all and he was sadly missed as an enthusiastic Dharma master.