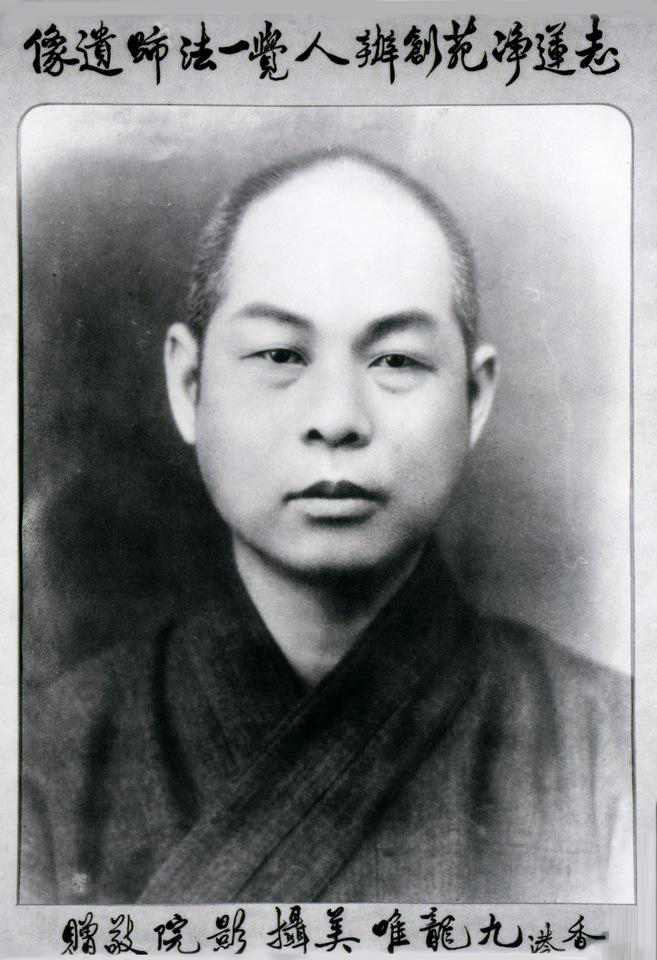 Venerable Kok Yat
Venerable Kok Yat (1889-1943), alias Sing Tze, was born in Guangdong province. In 1920, he joined the Buddhist monastic order at Sungai Temple, Baiyun Mountain in Guangzhou. He served as an attendant to Ven. Tai Xu, the new abbot.
When Ven. Tai Xu left Guangzhou a year later, Ven. Kok Yat headed north to Zhejiang. He studied under eminent monks and made a big leap of spiritual progress, as recorded by Ven. Tai Xu. Upon returning to Guangzhou, Ven. Kok Yat was more virtuous and dignified and was highly regarded by the monastic community and the public.
In 1920, Ven. Tai Xu was invited to propagate Buddhism in Guangzhou. Ven. Kok Yat made arrangements for the master to deliver lectures on Buddha's teachings in the Very Congressional Staff Club in Dongdi, Guangzhou. After the successful completion of the event, Ven. Kok Yat accompanied the master to Hong Kong to propagate Buddhism. From his initial public appearance in Hong Kong, Ven. Tai Xu has been instrumental in promoting the teachings of Buddha and made a momentous start of the rise and spread of Buddhism in Hong Kong.
A few years later, Ven. Kok Yat moved to Hong Kong and was soon ranked among prominent monks such as Ven. Fat Ho, Ven. Oi Ting and Ven. Hoi Yan. In 1931, the newly established Hong Kong Buddhist Association invited eminent local monks and those from the Mainland to expound Buddhist scriptures. Ven. Kok Yat was invited to expound the Prajñā Pāramitā Hṛdaya Sūtra.
In 1933, Ven. Kok Yat, together with Ven. Wai Um and Ven. Ho Yan, founded Xiang Hai Puti Chang at Leighton Hill Road, Happy Valley to promote the Pure Land School of Buddhism. Ven. Kok Yat was its first president.
In 1934, Ms. Nam Chong Yuen and many Buddhist practitioners sponsored Ven. Kok Yat and his disciple, Ven. Wai Um, to set up a Buddhist monastery at Diamond Hill, Kowloon. The two masters vowed to propagate Buddhism and promote the Pure Land of Buddha Amitabha for the benevolence of mankind. They built Buddhist halls and reception hall for teaching, praying and penance. Thus Chi Lin Nunnery, a monastery of the Pure Land School, was established.
A Buddhist, Mr. Yu Jiu of Nanyang Brothers Tobacco Company Limited, offered his villa, Hui Si Yuan in Shatin, to Ven. Kok Yat for his religious practice.
On 25 December 1941, the Japanese invaded Hong Kong and their occupation lasted for 3 years and 8 months. During this turbulent period, all religious activities came to a halt. Buddhist monks, nuns and the people of Hong Kong suffered immensely. Although many people had left, Ven. Kok Yat and Ven. Wai Um and several disciples stayed at Chi Lin.
Life was harsh in the war-torn city. On the 13th day of the 3rd lunar month in 1943, Ven. Kok Yat passed away at the age of 54, three days after the death of his disciple, Ven. Wai Um.